Boot liners (and Mud) are a Dog's Best Friend!
5th July 2019
And a Dog is a Man's Best Friend. Meet Sam.
Sam is a 2-year-old Lab / Retriever mix, a re-homed guide dog and adorable.
After trying his paw at being a Guide Dog, Sam realised that the working life was not for him and he wanted to live a life of luxury! Luckily for Sam, he met Bill - a human looking for a four legged friend to join him on walks and travel the country with. Naturally, with walks and adventures come mud – even on sunny days.
With their adventures in mind Bill decided to invest in one of our fully tailored bootliners for their Audi A6 Avant. Sparing no expense for his new friend, Bill upgraded the bootliner to include all the extras. The bootliner we made for this pair included a drop back, a 40 / 60 seat split and a bumper flap; plus, the comfy quilted material means that Sam can truly travel in luxury just like he always wanted! I think it's safe to say we hit the nail on the head with this one…
"We ordered the boot liner for an Audi A6 Avant 2017, it arrived on time with correct seat configuration, fitted extremely well and was easy to install. It is well made, water proof and padded - and we have just headed five hundred miles South with our two-year-old lab / retriever in the boot with no objections from him! I would advise paying the little extra for the bumper guard as the dogs do tend to use your bumper as a launch pad but it's also extremely useful for sitting on or changing your golf shoes without damaging your car." - Bill
The drop back option means that Bill can fold the seats back so that when he is having a human only adventure on the golf course, his golfing gear can easily lay in the boot – no need to worry about trying to get it to fit in at an angle. Just fold down the seats and pop it in.
Speaking of Bill's golfing antics, he mentions in his Trustpilot review that the bumper flap is beneficial not just for Sam jumping in and out of the boot but also for him to rest on when he changes his golf shoes. This is something that we sometimes forget about when talking about the benefits of a bumper flap. We always mention "if you have a dog that you take out in the boot it's great" but it's not just our four legged friends that use the bumper, we humans do too! The detachable bumper flap means that if you need to take a seat or need a perch for your foot whilst you tie up your laces the bumper flap is covered. No scuffs from your pooch's paws or the bottom of your shoes.
On one of their recent adventures, Bill managed to get some photos showing just how important it was for him to invest in this boot liner with how muddy Sam gets on their walks. Here is a before and after comparison: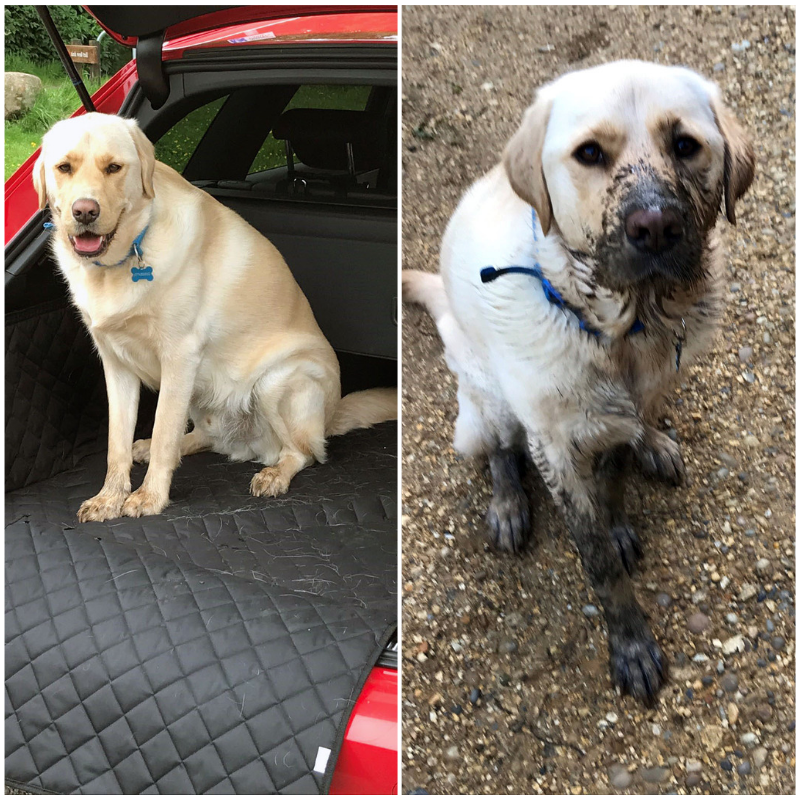 It's a good job the boot liner is machine washable, Bill. Look at that mucky face!
So give our bootliners a 'paws' for thought and check out our full range of fully tailored bootliners to protect your boot from any mucky paws.
Already have a boot liner (fully tailored or semi tailored) that keeps the car clean from fur and mud? Send us an email with your order number, any photos and some information about your furry friend to sales@premierproductsltd.co.uk .